Back To School: Sand-Off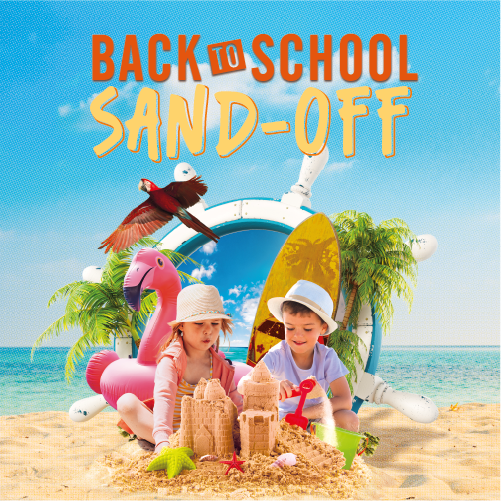 How to enter play area:
All you have to do is spend a minimum of AED 300 at any of Marina Mall's outlets* and receive complimentary access to our Sand-Off Back to School game area
Approach the stand organizers, present single purchase receipt* and register to enter. (*money exchange outlets, Carrefour, or service outlets are excluded)
Terms and conditions of the play area:
Access is restricted to children who are between 3 years till 11 years old. Proof of age is required upon request
One child is allowed for entry per AED 300 spent (Single purchase receipt)
The duration to play in the game area will be limited to 45 minutes per child
Participants are not allowed to take items outside the play area
Parents/guardians are required to sign a waiver form before entry
This promotion is valid between 21st August – 04th September 2022.
Mechanism of sandcastle competition:
Register the child who wishes to participate through our in-mall organizers/ website / social media channels
Participants must be within the age group of 3-11 years
The participants must bring their own tools to use in the sandcastle competition
The sandcastle competition will be hosted between 5pm – 6pm on weekends with a maximum of 5 participants at a time
Each participant will have 1 hour to build their sandcastle
The participant can only enter the competition one time only, no repeats and/or trials will be allowed
Replacement of participants in the middle of the competition is not allowed once it has started
Slots are limited & offered on a first come first served basis. Pre-registration is required
Chosen participants will be contacted in advanced
Winners will be announced on the same day after the competition.
For registrations please contact marketing@marinamall.ae or send us a message via our social media channels. Hurry, slots are limited!